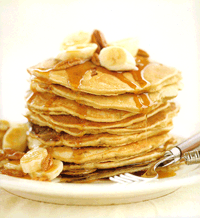 Ok, I don't know if I am going to be able to communicate how excited I am about these things?!
Protein pancakes are our new favorite thing!! They are SO YUMMY and can be done a million different ways. My friend Melinda gave me this recipe after I told her my boys were bottomless pits and were always hungry?! It is a great way to "sneakily" get protein in and avoid them snacking on unsatisfying carbs. You can make them sweet or savory and they are not only for kids :) They taste like a crepe and a pancake hybrid and you would never guess they are mainly made of eggs and cottage cheese?! You just combine these ingredients in a blender and blend til smooth,
1/4 cup flour
(you can sub whole wheat or almond flour )
(you could also easily add a 1/4 cup pumpkin puree, or any fruit or veggie puree, or go sweet with coco powder, peanut butter, or chocolate chips :)
Pour into a well greased pan, and cook just like you would cook pancakes!
Flipping them over once one side is golden.
(Serves 2-3, or a mom and 2 kids ;) I doubled the recipe this morning to feed our whole fam)
This morning I added
3/4 of a banana
to the mix and blended well, then used the remaining 1/4 to slice and serve on top with a drizzle of maple syrup :)
Delish!
Tomorrow we are going savory! I'm going to add spinach, mushrooms and feta to the mix! I'll let ya, know how it goes:)
Try these! I promise you'll
enjoy
Cj
(image credit: epicurian.com)